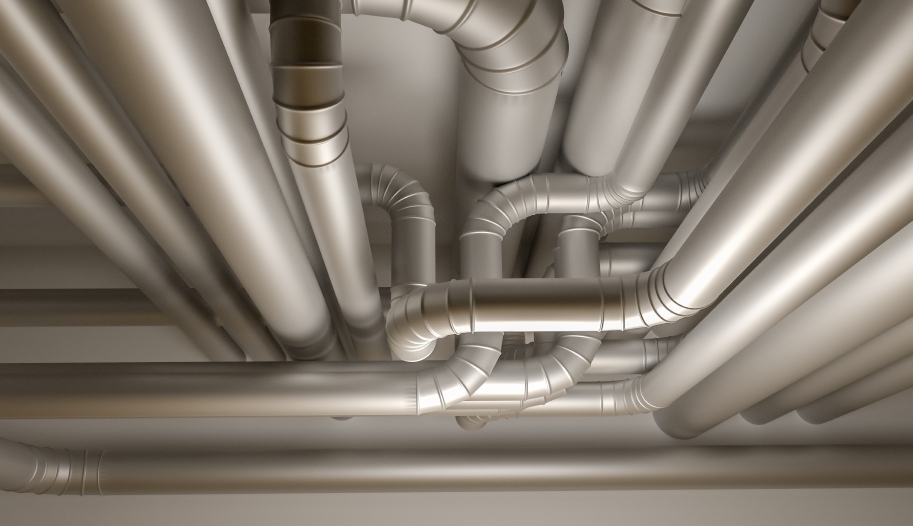 Why you Should Opt for Custom Ductwork
If you are like most homeowners, there is a huge chance you've overlooked your HVAC system. Your HVAC system is crucial in maintaining the comfort level inside your home. Whether it is the cold months or the long summer nights, you cannot afford to have your HVAC system break on you.
Aside from taking the proper preventive maintenance steps on a regular and consistent basis, having custom ductwork in your home can help keep your HVAC system running in optimum condition. Air ducts ensure that the thermal quality in your home is maintained at an optimal level, making them key components in your HVAC system.
Find out how you and your HVAC system can benefit from custom ductwork by reading our blog entry below. We recount some of the best benefits you can reap from going custom!
They are made for you
Just like a custom-made dress or shoe, custom ductworks are made to suite your home's specific size and your system. Others might be turned off by the amount of work involved in getting custom ductwork. Finding the right contractor for the job should be enough remedy for this dilemma.
Although more labour-intensive, getting custom ductwork can help you maintain the optimal thermal level for your home without putting any strain on your HVAC system.
Efficiency and better performance
We have already touched on this earlier but we would like to go more in depth. Getting custom ductwork for your home ensures that your HVAC system runs efficiently without causing an intense amount of strain in your machine. Because custom duct systems are made according to your system's specifications, they can work hand in hand in providing you the best heating and cooling experience.
Getting custom ductwork for your home means extra attention is paid to the littlest things, like your home's layout. Contractors make sure there are no obstructions that can prevent the air from circulating properly throughout your home.
You can worry less
Investing in an HVAC system comes with a pretty steep price tag and we cannot afford them breaking down on us at the most unexpected moments. As mentioned, custom ductwork ensures that your HVAC system is never left to its own devices – they work hand in hand to increase efficiency and performance.
This means you can worry less about your HVAC system breaking down on you unexpectedly. Having custom ductwork means you are guaranteed your HVAC system will last you a really long time.
Thinking of getting custom ductwork for your home? Get in touch with us TODAY! Twintech has some of the best technicians and HVAC experts in town who offer thorough inspection and cleaning services. We provide complete range of HVAC solutions for properties in Ajax, Whitby, Pickering, Oshawa and the Greater Toronto area. Get in touch with us NOW!
See What Our Customers Are Saying:
Aug 20, 2019
What was promised, was delivered at a cost-effective price point.
Timely and appreciated - this was during the hottest days this year when our Air and Furnace way.
Efficient. Professional. No BS or overselling. What was promised, was delivered at a cost-effective price point.
Down to earth.
Aug 10, 2019
Professionally done and took care to cover all entry floors
Professionally done and took care to cover all entry floors to the house for the installers to remove the old furnace and install a new furnace.
I also made recommendations of the tankless water heater that we had installed and items to address. We did not know they also installed tankless water heaters.
Jul 21, 2019
Proud to support this local company
Price was not the cheapest nor the most expensive of my quotes. It's the quality of the installation that makes for a good AC system. The twins' knowledge & professionalism was evident in the small details:
Very clean work. Greg made sure that the refrigerant level & temperature were correct. They reinstall the insulation & vapor barrier around the wall. The outside electrical cords were secured to the wall. Proud to support this local company. Thank you.
Jun 11, 2019
Arrived on time worked very efficiently and were very clean
Great team of guys came to do the work. Very professional. Arrived on time worked very efficiently and were very clean. They answered any questions we had without hesitation. The air conditioner works great and is so quiet. I highly recommend them and they don't try to up-sell anything right from the start.
May 10, 2019
The service was prompt, professional and very courteous
The service was prompt, professional and very courteous. Competitive price. Would highly recommend this company.
Jul 20, 2019
Excellent Workmanship, and Quick Response
Excellent workmanship, and quick response. Would recommend Twintech to anyone.
Nov 11, 2019
I'll Always Be Contacting Twintech First!
My existing 15-yr old A/C went down on me during the first major heatwave of the season. Researched my options, as well as a few different installers, and decided on Twintech.

They gave me confidence right from the beginning. Extremely knowledgeable. Their communication was excellent - always responded to questions quickly. Given we were in a heatwave, they were fully booked. However, within days they were able to fit me in due to a cancellation. Upon learning that the Amana unit I was getting installed was on backorder, TwinTech went to bat for me with the manufacturer and was able to get me the next model up within a day, for the same price - Amazing!

As far as the installation was concerned, I couldn't be more impressed. These guys were clearly very experienced and did a fantastic job. Very clean, polite, timely & informative. They even thoroughly sealed all the exposed gaps in my ductwork. I've had plenty of heating and cooling work done in the past and have never used the same contractor twice because I've never been very impressed. However, from now on, I'll always be contacting Twintech first!
Jun 19, 2019
They were very friendly and took care of everything.
They were very friendly and took care of everything. The install looks great (and works great), they were very knowledgeable. Installed our a/c efficiently despite the difficult install location both inside and outside and they made it work.
Jun 12, 2019
Phenomenal service, so glad I found these guys
Phenomenal service, so glad I found these guys a few years back after being "hosed" badly by 3 other companies. I've recommended them to so many, and they all are so thankful.
May 1, 2019
This company is fantastic
This company is fantastic. Dave came out and gave me a very honest and reasonable quote, unlike a quote received from another company. I had a bunch of questions that were easily answered and when I had questions regarding heating/cooling a previously unheated room above the Garage, Dave arranged for Greg to come out for an assessment of this new space and gave me his recommendation along with his professional thoughts on all of my options.

These guys have been nothing but Professional, honest and helpful along the way. I can't recall the two other guys doing the install, but they were great as well. Good workmanship, everything was cleaned up and everything functions as promised. I could go on and on about my experience, but it's all positive so what more could you want?

Give them a call, see for yourself. If I had to buy another furnace/AC or heat pump, they'd be my first call.