Hot Water Heaters Pickering
There are few everyday pleasures more satisfying than a hot shower. Alternatively, there are few disappointments greater than expecting hot water and getting nothing but cold. When that happens it's time to call an expert and we at Twintech Pickering are ready to help you get your water running hot again. Most people use tanks to keep their water hot. There's a good reason for that – having a supply on hand ensures you have all the hot water you need regardless of how many faucets you have running. If you need a replacement tank or want to upgrade to a larger model we have a variety of options we can install to suit your home and your needs. If you have an electric hot water heater in you may want to switch up to gas to save some additional money on your monthly bills and we can certainly facilitate that. Not only can we install your new gas-powered water tank we can also put in all the necessary gas lines. New gas lines can be concerning to some homeowners but rest easy – we not only have the expertise to do it right – at TWINTECH safety always comes first. If you're looking to service your already existing water tank we can certainly help you out with that as well. Our experience working with electric and gas tanks has provided us with all the knowledge we need to get your old tank, regardless of type or make, back to heating your water full-time. TWINTECH is ready to assist you with all of your water heater needs. Call us today for a no obligation quote.
CLICK HERE FOR A FREE QUOTATION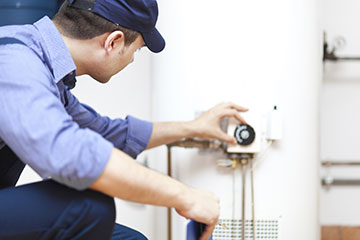 Maintenance
Whether you need a routine inspection or your hot water tank broke down, all you need to do is give us a call and one of our technicians would be happy to help you!
LEARN MORE
Interested In This Service?
Contact us today for a free NO OBLIGATION quote!
Contact Us
Featured Hot Water Heaters
Hot Water Heaters Starting At
Call for pricing...
Learn More